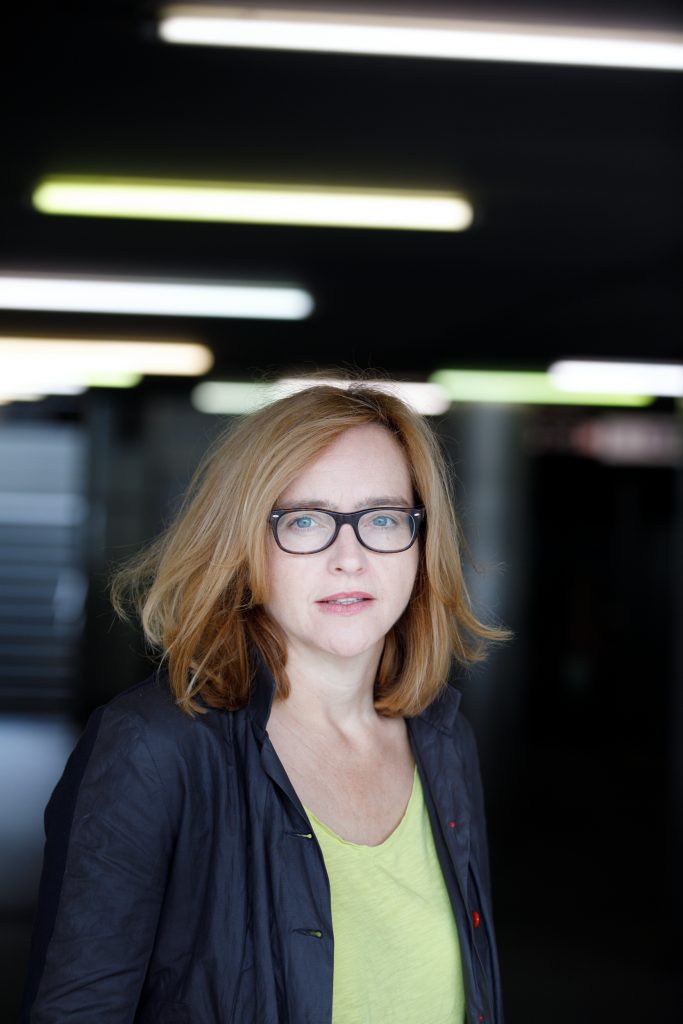 »Reitzers Prosa ist so unaufgeregt, 
wie es nur das wirklich Authentische sein kann.«
[ Der Falter ]
Angelika Reitzer wurde 1971 in Graz geboren und studierte Germanistik und Geschichte in Salzburg und Berlin, seit 2001 lebt sie in Wien. Sie ist die Verfasserin des Erzählbandes Frauen in Vasen (2008) und von vier Romanen: Taghelle Gegend (2007), unter uns (2010), Wir Erben (2014) und Obwohl es kalt ist draußen (2018). Aufführungen im Kunsthistorischen Museum Wien Ein Kind seiner Zeit und Ein Auge zudrücken (Minidramen). Texte für eine Filmtriologie von Antoinette Zwirchmayr: Der Zuhälter und seine Trophäen (2014); Josef. Täterprofil meines Vaters (2015 – Diagonale Preis 2016 für Innovatives Kino).
Auszeichnungen (u.a.): 2007 Hermann-Lenz-Stipendium, Nominierung zum Aspekte-Literaturpreis des ZDF (Shortlist) für Taghelle Gegendund Wiener Autorinnenstipendium; 2008 Einladung zu den Tagen der deutschsprachigen Literatur (Ingeborg-Bachmann-Preis), Reinhard-Priessnitz-Preis; 2009 Förderungspreis der Stadt Wien und das Robert Musil-Stipendium des Bundesministeriums für Unterricht, Kunst und Kultur, 2012 Max Kade-Writer in Residence an der Bowling Green State University Ohio, Otto Stoessl-Preis, 2014 Literaturpreis des Landes Steiermark, 2016 Outstanding Artist Award für Literatur.
Lehrtätigkeit am Institut für Sprachkunst an der Universität für Angewandte Kunst Wien, Lesungen und Vorträge im In- und Ausland, Schreibwerkstätten, redaktionelle Mitarbeit und Moderation bei der Reihe Textvorstellungen sowie für literarische Neuerscheinungen in der Alten Schmiede Wien (2009–2016).
Angelika Reitzer was born in 1971 in Graz, Austria. She studied German philology in Salzburg and Berlin, and is now living in Vienna. Before becoming a freelance author of prose, poetry and drama, she worked the odd job in the artistic and cultural field and was also a proof reader for art magazines and fact books.
Her most notable works include the novels Taghelle Gegend (Daylight Region, 2007) and unter uns (Among Us, 2010), Wir Erben (We are Heires, 2014) and Obwohl es kalt ist draußen (Although it's cold outside, 2018), a collection of prose Frauen in Vasen (Women in Vases, 2008), and the mini-dramas Nichts davon (None of It, 2008) and Tirol-Connection (2009). Her play Ein Kind seiner Zeit (A Child of Its Time, 2010), set to Hieronymus Bosch's painting Christ Child with a Walking-Frame, was performed in the Museum of Art History (KHM) in Vienna. Cooperation with the Artist Antoinette Zwirchmayr on a film trilogy: The Pimp and His Trophys (2014); Josef. My Fathers Criminal Record (2015 – 2016 Diagonale Award for Innovative Cinema).
Editorial cooperation and presentation at the events Textvorstellungenas well as for Literary Releases in the Alte Schmiede Vienna, Lecturer at the Institute of Creative Writing at the University of Applied Arts Vienna, in 2016 Curator (together with Wolfgang Straub): Pencil, Notebook & Laptop. 10 Positions in Contemporary Writing at the Austrian National Library's Literature Museum.
She was the recipient of the Hermann Lenz grant in 2007 and her accolades also include the Reinhard Priessnitz Award (2008), as well as the Marianne von Willemer Prize (2009), Max Kade-Writer in Residence an der Bowling Green State University Ohio (2010), the Otto Stoessl Prize (2012), the Literary Award of Styria (2014) and the Outstanding Artist Award for Literature (2016).